Welcome to Our Parts Department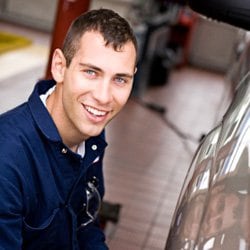 Take Care of Your Ford Vehicle at Our Parts Center in Marshall, MN
Replacement parts or upgrade kits will always be sought after by vehicle owners, whether they need to switch out a broken part or seek a new look to give to their current model. Between the variety of options available at these kinds of locations, everyone with a Ford vehicle will be more than happy to delve into the potential to change the way their models currently look or update them with fresh, new parts in Marshall, MN. Here are some parts you can find here!
Rims
No vehicle owner wants to go around making their car look average throughout their entire life of owning it. Every set of tires adds to the personality that a car or truck truly deserves, from various designs to a selection of finishes to choose from (chrome, matte, silver, gold, etc.). You can see our unique selection near Redwood Falls.
Bumpers
Whether they're for the front or back of a vehicle, they make for great vehicle components if you're interested in either your pre-existing bumpers or want to ensure that they remain safe around Worthington. Sizes and design traits vary from piece to piece, so pay attention while shopping.
Brakes
Replacing brakes is highly recommended because they wear out from a car or truck going between 20,000 to 60,000 miles, so be on the lookout for any squealing from the tires or a shaky steering wheel before looking into replacing them. Our service technicians near Montevideo can easily replace brakes.
Mufflers
These pieces of equipment are vital overall, no doubt due to their capability in canceling out any noise made by the engine's pistons and gears. Given how loud mufflers aren't safe while driving, replacements are highly encouraged.
Headlights
From illuminating darkened roads in Sioux Falls to warning others with turn signals, replacing headlights is a top priority for those who want to restore the feature in a much smoother condition to not get in trouble with the law.
Visit Kruse Ford Lincoln Inc. to Learn More
These parts and more are available at Kruse Ford Lincoln Inc. Be sure to take advantage of our offerings while supplies last near Granite Falls.